This piece by Josmar Trujillo was originally posted on Huffington Post.
There's a controversy brewing in the South Bronx.
For over a year, Bronx activists have been fighting off real estate developers who've been trying to rebrand the neighborhood as a new 'hot' area ripe for gentrification. Swizz Beatz, the Bronx-born producer and DJ who's made hits for the likes of DMX, Noreaga and the Lox, has thrown his headphones into the ring with an art show that some activists are pointing to as a part of that rebranding campaign.
It all started when Keith Rubinstein, a real estate developer and founder of Sumerset Partners, bought up waterfront land in the South Bronx where he's looking to build two gigantic luxury high-rise buildings. A five-acre space along the Harlem River will also be developed by Somerset to have high end stores and a waterfront promenade. In other words, Rubinstein, who's put his Upper East Side mansion on sale for $84.5 Million, is doing for the Bronx what developers have already done to Brooklyn.
To make matters worse, an art party hosted by Rubinstein last year birthed the incredibly shitty idea that the South Bronx neighborhood should be renamed the "Piano District". That gentrifying renaming attempt (think SpaHa—SpanishHarlem, or WaHi—Washington Heights) was the source of much drama, igniting a firestorm on Twitter last year with the hashtags #WhatPianoDistrict and #TheBronxIsNotForSale.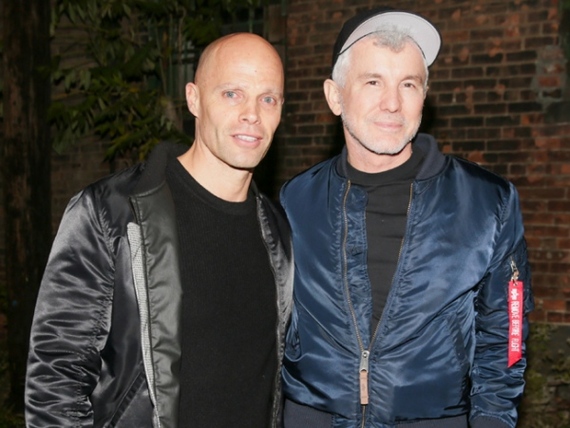 Developer Keith Rubinstein and "The Get Down" creator Baz Luhrmann at a party
The party itself, which saw celebrity appearances from the likes of Carmelo Anthony (whose support of a development in Brooklyn is being called out), Kendall Jenner, Naomi Campbell and Maxwell, was decorated with images of burning trashcans and bullet-riddled prop cars. As if a room full of celebrities, bougie artists and rich white people toasting one the country's poorest neighborhoods falling into the hands of developers wasn't bad enough, someone actually thought using the imagery from the Bronx is burning days was a good idea.
The internet ate them up.
Another attendee at that party was Swizz Beatz. Swizz came back this year with a 4-day art show called "No Commission" where artists sell art with all the proceeds going directly into their pockets. The concept would be Swizz was giving back to the community, helping up-and-coming artists and splashing in a touch of hip-hop. Performances from ASAP Rocky, Fabolous and even DMX wowed the crowds, though apparently not many were actually from the Bronx. Baz Lurhmann, the Australian director who created "The Get Down" Netflix series about the Bronx and rise of hip-hop, threw a premiere party on Jerome Avenue (ground zero for the Bronx rezoning battle) that same weekend, partying with Swizz.
Bullshit alert: the space for the party was provided by Keith Rubinstein, who's basically leading the charge to gentrify and ultimately displace a good number of poor South Bronx residents.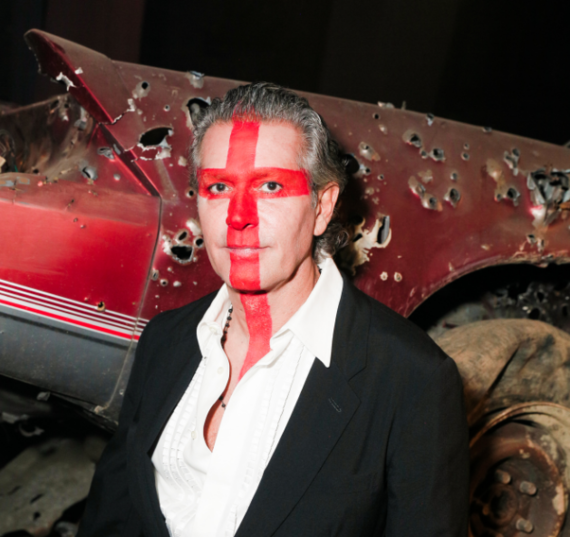 Weird white dude with Crusader cross painted on his face in front of 'gritty' Bronx car at party (Photo: Dope magazine)
In a recent interview with Vibe magazine, Swizz tried to downplay the negative vibes around the show, which was met with protests. He also explained that he, not activists who've been breathing down Rubinstein's neck about his development plans, had gotten the "Piano District" name dropped following a 30-minute one-on-one conversation.
"I got him to change the name "Piano District," because I told him the people didn't like that. So to those protesters I said, "Listen, I know you may not like this guy. I'm still learning him myself, but one thing I can say is he did give us this property to have fun and give back to these streets. He did push his plans back for us to have this property. Also changed [his mind], and said he won't name this this "Piano District."

So, he won't name it?

No. I had him do that in 30 minutes. If I got that man to change his mind in 30 minutes about naming this the "Piano District," what else can we [make] him do? What else can we sit down and have a decent conversation about, instead of protesting and being hostile? You don't have to protest if a person is willing to listen to you, but some people just got they own agendas."
Still, Swizz patted himself on the back and big-upped Rubinstein:
"I commend the landlord, Rubenstein—who owned both spots—because this probably cost him $2 million because he pushed this project back two months, with all the builders and workers and different things just so we could have a celebration."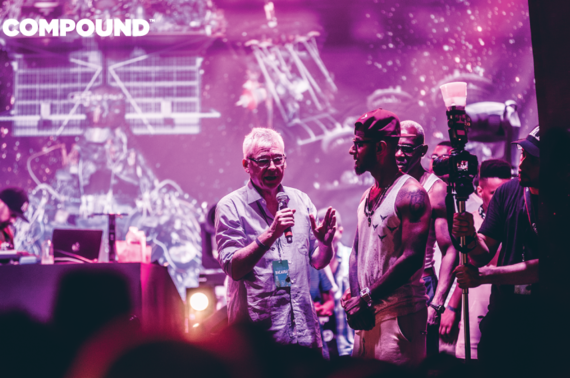 Swizz Beatz at his "No Commission" art party with Bacardi CEO Michael Dolan (Photo: Compound)
Shellyne Rodriguez ia Bronx born and bred artist. She's one of the protesters that Swizz tried to brush off in Vibe magazine as people with "their own agendas." She's also an organizer with Take Back The Bronx, a group that's been turning up on Rubinstein (labeled "anti-white" by the New York Post) and the luxury high rise twinkle in his eyes.
"Let's take note first that [Swizz] is openly commending this landlord, who means to displace our community to build a new Soho", she says. "Rubenstein paid 2 Million dollars to have Bacardi and Swizz Beatz provide an amazing PR campaign by throwing a huge popular concert and major art event with an impressive Coachella level lineup of musicians."
Chino, a 33-year old Bronx student and member of Take Back The Bronx, points out that what Swizz is doing "should be a wake up call" to artists: "If you stay neutral in a moving car, you're just supporting whoever is driving. Before you get turned into a hood ornament for the murder-machine, take some time to educate yourself on how gentrification works, and specifically how it uses art and creativity."
Shannon Jones, co-founder of Why Accountability, a police accountability group based in the Bronx, sees similarities in the Bronx and what happened with another musical celebrity that lent his street cred to the redevelopment of Brooklyn. "We learned this when Jay-Z was splashed all over the Barclays Center and the Nets. We cheered his success and ignored the eminent domain and displacement in downtown Brooklyn," she explains. "Whoever balked was a 'hater' that didn't 'understand business.' Come to find out he only owned one-fifteenth of one percent of the Nets organization—far from the part owner he was publicized as."
Rodriguez is also annoyed that Swizz, with the help of the fawning Vibe story, insinuates that he got the incredibly unpopular "Piano District" name scrapped. "This was a PR nightmare for [Rubinstein] and Swizz came in to clean that up. We bust our ass to go after Rubenstein for that arrogant colonizer bullshit. While Swizz Beatz was partying with him at the Macabre Suite, we were out on the streets."
The Swizz Beatz fight is of course an extension of the fight with Rubinstein. Rodriguez explains that there's much to absorb about how the fight against gentrification and displacement might look in the future. "The more real estate developers sink their claws into artists, the more diligent we have to be," Rodriguez says. "It's unfair when artists like Swizz wave golden opportunities at starving and emerging artists in neighborhoods that are being threatened with displacement. Who's gonna say no?"
This complicates the picture, in some regards. It's no longer Keith Rubinstein's white $84 Million dollar apartment sellin' ass as the obvious face of gentrification. With art and hip-hop slathered on the surface, gentrification takes an edgy new face. The plans for the "Piano District" remain on course, simply leaving the name behind.
"What's going to happen to this property after this show is already bought. The plans are already done. So let's go out with a blast at least," Swizz told Vibe. Rodriguez and Take Back the Bronx don't accept that and ask artists to look at the bigger picture. "Is space and our careers more important than housing for poor people of color?"